Share: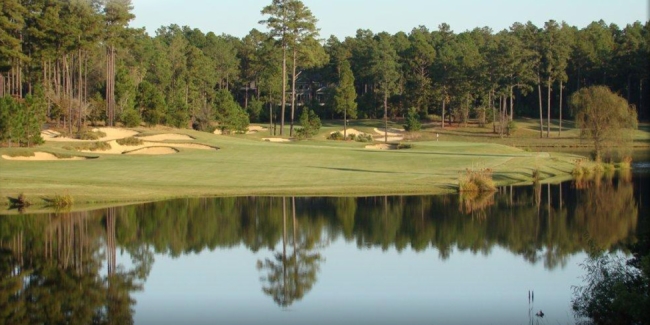 Around the historic Sandhills of North Carolina, nothing compares to the quality, variety and exclusive experience offered at Forest Creek Golf Club.
By Todd Wolff
For years, renowned golf course architect Tom Fazio has played host to a biennial fundraising event called The Fazio Cup, inviting golfers from around the country to different locations with courses he has designed for a two-day charity competition.

Recalls Fazio: "Some of these people had never been to Pinehurst before; golf fanatics from the West Coast, the Northwest and the Southwest. They had always heard about Pinehurst but for some reason had never gotten there."

A no-brainer for Fazio: In 1999, he scheduled his fundraiser at Forest Creek, an exclusive development built in the rolling Sandhills of North Carolina just minutes from the historic Village of Pinehurst.

Forest Creek's developers had turned Fazio loose on 1,265 acres with a carte blanche for designing two golf courses before they even began plotting the development. When Fazio's South Course at Forest Creek opened in 1996, it was widely hailed as one of the best new designs of the year. Ditto Forest Creek's North Course, another Fazio masterpiece that made its equally auspicious debut in 2005.

Little wonder Fazio wanted his charity guests to see one of his favorite places. Only one problem: "After their experience," says Fazio, "they always ask, 'When are we coming back? When are we playing at Forest Creek again?' And these are people who get to all the great places in the world."

When Forest Creek recently built 11 new suites at more than $300,000 apiece on the top floor of its stunning, 43,000 square-foot clubhouse, each providing one of the best golf views across the Sandhills, among the first buyers was Fazio - who has remained a close Forest Creek friend and supporter since the community's inception.

"I showed up a year-and-a-half ago and saw what the program was, and that they were going to build units in the clubhouse, kind of like the old-time clubs did, where they had rooms and places you could stay," Fazio says. "I went up and looked at them and said, 'Gosh, I've got to have one of these.' What a great place to send your friends, my family, my boys. I had to do this. What a place to be."

Only Golfweek magazine ranks the top residential golf courses in America. And only one community boasts two golf courses consistently ranked in the publication's Top 50. In and of itself and by almost anyone's definition, the distinction makes Forest Creek more than simply one of the most outstanding communities to live in a place widely hailed as the birthplace of American golf. It is, plainly and simply, one of the best anywhere.

Take the variety offered by Forest Creek's two Fazio gems: The rugged-looking North Course, accentuated with waste bunkers and native grasses, has some teeth at 7,209 yards with a slope rating of 144, including two par-3s on the back nine that measure 212 and 215 yards. Meanwhile, the South Course has a more traditional Pinehurst feel with tall pines lining most fairways. Golfers also have an opportunity to settle the score further with a 19th hole - nicknamed the Hog Hole.

"I like how, with a property like Forest Creek, our raters can see the merits of two diverse Fazio-designed course styles side-by-side," says Bradley S. Klein, national director of the Golfweek's Best Course ratings program. "The sandy, scrubby look of the North Course (No. 32 in the rankings) contrasts powerfully with the mature parkland sensibility of the South Course (No. 50 in the rankings), and our raters appreciated both of them."

Forest Creek seemingly has it all. Overlooking the golf courses, its elegant clubhouse complex includes a library and private dining quarters, while an adjacent, "stable-type" old-timey building houses the expansive men's locker room - simply one of the unique and special places a golfer will enjoy anywhere.

Forest Creek's real estate is also regarded as the best in the area, but it's the "pure golf feel" that moves the meter among its prospective buyers.

"Sometimes you need excuses to get back to places," adds Fazio, who has designed more than 100 courses around the world. "Fortunately for me, I've been to a lot of wonderful places. The hard part is how do you get to all these places? When you start getting older you start thinking that time is going to run out if you don't do these things."

Revised: 08/25/2013 - Article Viewed 21,858 Times - View Golf Course Profile
About: Todd Wolff
---

Todd Wolff is a well traveled freelance writer on golf, beer and travel. In 2005, Todd joined GolfTrips.com as the first contributor. When he is not on the links, Todd is brewing his legendary craft beers. In addition, to golf writing he is a world renowned graphic artist who has won numerous industry awards in logo design and product packaging.
---
More Articles by Todd Wolff