Share:
---
Bryan Park Golf Club Champions Course Review
Unspoiled Splendor
By David Theoret
Should you, an avid golfer, find yourself in the Greensboro, NC area during golf season- which according to Bryan Park General Manager and Director of Golf Kyle Kolls is all year - you need to book a round on the Champions Course at Bryan Park Golf Club.

Bryan Park Golf Club is a 36-hole facility. The Players Course opened in 1974 and was originally designed by George Cobb. Rees Jones did a major redesign of the course in 1988. The Champions Course opened in 1990 and is 100% Rees Jones; it has quickly become one of his best works. With seven holes bordering Lake Townsend, the views are just about as spectacular as the golf course. And, when the leaves change color in the fall, the scenery gets even better.

The Champions Course was ranked number 2 in Golf Digest's list of Best New Public Courses in 1990 and hosted the U.S. Amateur Public Links Championship in 2010. Year after year, the course is nationally ranked by major golf publications and is by far the Greensboro area's most prestigious public course.

Before your round on either course, be sure to take advantage of Bryan Park's impressive practice facilities. The driving range is full-length and allows you to hit every club in your bag. There's also a chipping green where you have plenty of room to work on a variety of short shots as well as improving your bunker play. The practice green is one of the biggest I have ever seen and has the ability to accommodate the largest of outings.

The Champions Course has it all: significant elevations changes, forced carries over water, sand and deep chasms, tree-lined fairways and wide-open holes. There's something for everyone here as well as a tee box with yardage suitable to your golf game and ability. From the Back Tees, Champions plays 7,264 yards and carries a course rating of 75.8 and a slope of 142; much higher than its sister course, the Players. The White Tees at 6,536 yards (72.4/136) will give most non-touring professional golfers all the golf they can handle. Seniors will enjoy the Gold Tees at 5,905 yards (69.7/130) while Ladies will have a blast from the Red Tees (5,237/71.7/128). A 5th set of tees - a combination of the White and Gold Tees - appears on the scorecard in the form of circles; I imagine this combo yardage will be added next reprint. From these tees, the course plays 6,151; for me the perfect yardage.

The 3rd hole is a challenging par 5 that plays 482 yards from the White Tees. Longball hitters who can carry the ball over 250 yards in the air should definitely try and cut the corner and get home in two. For the rest of us, the third fairway bunker on the left is the perfect aiming point off the tee, however if you pull it right you could easily find yourself in one of the neighboring sand traps. There's ample room in the landing area for your layup shot, setting up a short chip into an elevated tiered green. Odds are you'll have to fly the ball on as the three deep-lipped bunkers that surround the green will swallow up anything that is hit short. Not the longest par 5 out here, but still a challenge.

The par 3 holes also present a challenge, especially on the inward nine. Number 12 plays 180 yards and gets you ready for Number 14 at 210 yards. Number 14 also features two sets of tees and depending upon the mood of the superintendent that day, can make or break your round. The harder set of tees play over a finger of Lake Townsend and, if you tend to fade the ball, you're in trouble. A deep bunker guards the entire front of the green and there's a nasty pot bunker right as well. Mounding on the left side can make for a difficult lie and a tough up and down. The second set of tees play just as long but take most of the lake out of play.

The need for accuracy off the tee is really stressed on the back 9. Standing on the tee on Number 10, you get the feeling that you're going to have to make a good shot if you want to score well. After all, at only 345 yards - most of it downhill - how hard can it be? All that is visible off the tee is the retaining wall in front of the left side of the green. Water doesn't come into play off the White Tees unless you hit it over 250 yards, so most players can hit driver. Bunkers on the left and large grass mounds on the right beckon you to keep your tee shot in the fairway. A good drive that carries down the hill will leave a short iron into a two-tiered green guarded by water in the front left, a large bunker on the right and three pot bunkers in back.

Target golf continues on Number 11, a 501-yard par 5 that is more of a 90° angle then a dogleg right. Your tee shot is a 200+ yard carry over water and a deep chasm as well as two large bunkers. Success off the tee does not insure victory over the hole; you'll need to hit two more accurate shots to reach the green. The fairway is narrow and slopes off on both sides all the way up to the green. A good line on your layup shot is the left bunker. Leave it short, and you'll have the best angle of attack into the large green that features modest undulation. This was by far my favorite hole.

Number 13 is the most challenging hole on the Champions Course. It's the longest par 4 at 435 yards (White Tees) and requires a long carry off the tee. Lake Townsend sits to the right of the tee box and figures into the equation all the way down the right side. As you get closer to the green, you will notice that you are on a peninsula in the lake, with water and deep bunkers on both sides. Mounding and sand make for a tough approach shot, especially if you hit it short. Depending on pin placement, an up and down can be a challenge.

The final three holes on the Champions Course play away from the lake, but still offer some significant challenges. Number 16 (382 yards) is a dogleg left with a well-undulated fairway that slopes right to left and is guarded by heavy woods on both sides. Your approach shot is all carry to one of the layout's smaller greens which is protected in front by a complex of 5 bunkers.

Number 17 is a long, straight par 4, that plays 408 yards from the White Tees. The only trouble off the tee is a pot bunker on the left side about 230 yards out. The elevated green is guarded by two large and deep bunkers on the left. Two good shots and you could be rewarded.

The finishing hole on the Champions Course is a long par 4 at 443 yards (White Tees). The towering pine trees on the right shouldn't come into play, however the same cannot be said for the large fairway bunkers on the left. A long tee shot is still going to leave a long approach shot to a large, elevated multi-tiered green that falls off on either side. Pars (or better) can be hard to come by on this hole.

Last Word: Bryan Park is one of the nicest public golf facilities I have ever had the pleasure of playing and writing about; and that goes for either course. Although the Players Course may not be quite as challenging, it is by no means an "easy" golf course.

The Champions Course on the other hand, demands a complete golf game from its players. You'll need both length and shot making ability if you want to score well here. A couple of the par 4s are extremely long, in fact, I've played shorter par 5s. The front nine provides a great warmup and is the side you're going to score well on. Be sure to save your energy and deductive reasoning skills for the back side, you'll need to hit a few long carries and think your way around.

If you're serious about the game of golf and want to get an idea if how good (or bad) you really are, the Champions Course will be a great barometer. If you can get around this course and still feel good about your game, you've accomplished something. If you're playing poorly, just take a minute and look around; especially on the backside where some of North Carolina's best golf vistas can be found. It's just you, mother nature and that little white ball.

For more information on Bryan Park Golf Club or to book your next round; be sure to visit their website, www.bryanpark.com.



Article Tags: North Carolina, NC, Greensboro, Rees Jones Design, Bryan Park Golf Club, Champions Course
Revised: 10/25/2017 - Article Viewed 2,609 Times - View Golf Course Profile
Share Comment
Written By: David Theoret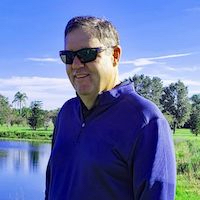 David Theoret has been in the golf and golf travel industry for over 10 years, primarily selling online advertising. For the past seven years, he has also been a golf writer, reviewing golf courses, resorts, destinations, equipment, golf apparel, and training aids - the latter of which never seems to help. David's articles and reviews have been posted on many golf travel and equipment websites.

Growing up in Southwestern Ontario, Canada, it was naturally assumed he would play hockey. Beginning at the age of 3 and continuing into his late 30's, he did just that. However, after one too many pucks to the head, he realized that golf was a lot easier on the body (whoever said hockey players were slow) and took the game up.

After moving to Florida and accepting a position with TravelGolf Media (now part of GolfNow) his love for the game grew exponentially. Most Saturdays you will find him on a course somewhere in Florida or on the practice range reinforcing his bad habits. David plays to a 10 handicap - unless there is money involved in which case it goes considerably higher. He currently resides in Lakeland, FL with his wife Belinda and their two "kids", Madyson and Molly.