Share:
Rest and Relaxation in the Great Smoky Mountains!
By David Theoret
Years ago, Sam and Debbie Stebbins had a vision. They were nearing retirement age and been wondering what was next. The couple had been toying with the idea of owning a bed and breakfast since they visited their first over 25 years ago. When the Buck House property came available, Sam retired early from his civil engineering career and Debbie began collecting recipes, dishes, antiques and vintage table linens. Her love for cooking and entertaining shines through when you speak with her and when you sit down to enjoy your morning breakfast.

The Buck House was built in 1904 as a residence. The chestnut walls, ceilings and floors from the original home have been restored, including the beautiful staircase; several modern amenities have been added. The Buck House property along with several of the historic outbuildings and structures are listed on The National Registry of Historic Places. The Inn has four bedrooms, all with private bathrooms and luxurious linens. There's actually a 5th bedroom, but you'll need to ask Sam and Debbie about that one!

Each room has been tastefully decorated in cool, soothing colors and fitted with luxurious sheets, coverlets, fluffy down comforters, and decorative pillows. Each room also has a fireplace and free Wi-Fi is available in all bedrooms and throughout the Inn. All rooms have private baths furnished with Turkish towels, hairdryers, and magnifying mirrors.

The Dreamdale Room - has a king bed and is dressed in luxurious white and powder teal linens. There's also a functioning fireplace with gas burning logs, a generous sitting area, and a private bath. You can see the old general store from the window and Bald Mountain Creek can be heard when the windows are raised to enjoy the cool mountain air. This is the bedroom the original owners, David and Pearl Buck would use for visiting dignitaries.

The Chestnut Room - gets its name from the walls, floor, and ceiling that are the original unpainted chestnut boards milled from the Buck property in 1904; it is the only bedroom with this feature. A queen-size cherry sleigh bed dressed in luxurious linens of cream, gold, and a touch of deep red provide warmth on chilly summer nights when the temperature can dip into the low 50s. The tile and glass shower area is furnished with Turkish towels and may be heated for your comfort. The views include the front lawn, pond, and the stand of hemlock trees.

The Creekside Room has the best views of Bald Mountain Creek. It's cozy, romantic and makes for the perfect weekend getaway. There's a queen bed dressed in luxurious cream, white and powder blue linens. There's a chair next to the gas fireplace for reading or enjoying the sounds of the creek. The tiled shower area is furnished with luxurious Turkish towels and may be heated for added comfort. From the window, you can see the general store, front pond, and the outdoor firepit; open the window and you can hear the soothing sounds of the creek.

The Hemlock Room - No, it's not poisoned; but it is named for the 100-year old stands of hemlock trees, some of which can be seen from the room. There's a king size bed with luxurious sage green and khaki linens and a reading nook with a comfy chair and throw tucked between two windows. The en suite bath features a beautiful large tiled shower with glass doors, a vanity reminiscent of an antique curio and luxurious Turkish towels and spa robes. You can also heat the shower area if necessary.

The breakfast menu is preset the day before, there's a board on the main floor that not only welcomes guests but gives the breakfast menu as well. It's served in the dining room and you can either dine with the guests you chatted with the night before or at a small private table with that special someone. You may also dine creekside if you're so inclined. The menu changes every day and always includes fruit, a hot entrée, side of meat, and homemade bread. And piping hot coffee.

Guests also have access to the dining facilities at Wolf Laurel Country Club, located just up the mountain. If you're a golfer, Ask Sam and Debbie about how you can play a round at the private Wolf Laurel Country Club, one of the finest mountain golf courses in the area. And, with a number of golf courses within a short drive, it's a great place to stay - and something different - if you're planning a golf vacation to the area.

There's a lot more to do at the Buck House Inn than just spend the night and eat a morning meal. The Inn is located on 8 acres with plenty of paths to roam as well as an adjoining 700 acres of forests with trails for hiking. If you're into fly fishing, you can try your luck on the creek that runs through the property. Bring your own gear or borrow the Inn's. There are covered swings along the creek for reading or snuggling and the wrap around porch is the perfect place to swing and rock the time away. Each night, weather permitting, enjoy wine, s'mores or hot chocolate. Yard games such as horseshoes, croquet, bocce ball, and disc golf can easily be arranged as well.

Inside there's a bottomless cookie jar in the foyer and complimentary guest beverages and snacks located in the hallway outside the bedrooms on the second floor. In the activity area, you'll find hiking maps, a laptop and local dining, shopping, and recreational information. The parlor area has a gas log fireplace where you can chat and get to know the other guests. There are large screen TVs in the living areas in case there's a big game on that you don't want to miss!

This cozy bed and breakfast is located near Burnsville, NC, about 27 miles north of Asheville. The property is surrounded by a conservation of 750 acres of the majestic Blue Ridge Mountains. The rustic style of the Buck House Inn on Bald Mountain Creek is the perfect setting for a romantic getaway, retreat, or family reunion. The Bald Mountain Creek can be heard from just about anywhere on the property, including the wraparound porch! Depending on the time of year and what's in bloom, you can sit outside and see a wide variety of beautiful butterflies including Long Winged Zebras, Gulf Fritillaries, Painted Ladies and Monarch plus beautiful Goldwinged Finches and Hummingbirds.
For more information on The Buck House Inn or to check the availability, visit their website at www.thebuckhouseinn.com.

Article Tags: Buck House Inn, Bed and Breakfast in North Carolina, North Carolina BNB, BNB, Wolf Laurel Country Club, Bed and Breakfast, Burnsville NC, Bald Mountain NC
Revised: 09/04/2019 - Article Viewed 17,007 Times
About: David Theoret
---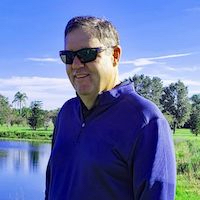 David Theoret has been in the golf and golf travel industry for over 10 years, primarily selling online advertising. For the past seven years, he has also been a golf writer, reviewing golf courses, resorts, destinations, equipment, golf apparel, and training aids - the latter of which never seems to help. David's articles and reviews have been posted on many golf travel and equipment websites.

Growing up in Southwestern Ontario, Canada, it was naturally assumed he would play hockey. Beginning at the age of 3 and continuing into his late 30's, he did just that. However, after one too many pucks to the head, he realized that golf was a lot easier on the body (whoever said hockey players were slow) and took the game up.

After moving to Florida and accepting a position with TravelGolf Media (now part of GolfNow) his love for the game grew exponentially. Most Saturdays you will find him on a course somewhere in Florida or on the practice range reinforcing his bad habits. David plays to a 10 handicap - unless there is money involved in which case it goes considerably higher. He currently resides in Lakeland, FL with his wife Belinda and their two "kids", Madyson and Molly.

---
More Articles by David Theoret